How to make champurrado with milk and dough. This is a traditional recipe, another favorite Mexican chocolate drink of the winter season in Mexico.
This recipe is also in Spanish: Receta de Champurrado
This traditional creamy Mexican drink is prepared with chocolate. We love to drink it with tamales. Keep reading for the best champurrado recipe.
It is served during the holidays, on Día de la Candelaria and with the Rosca de Reyes.
WHAT IS CHAMPURRADO?
The Champurrado is a chocolate-based atole drink, made with milk and corn dough, and spices. It is creamy and delicious.
You may have tried it at a Mexican fair or Mercado, but the best champurrado is the one made at home. Some prepare it with water, but the champurrado with milk is tastier and creamier.
So keep reading and go ahead and prepare it.

Ingredients to make Champurrado

Corn dough. To thicken the champurrado you can use Maseca or corn dough masa ready to use, which you can get at the tortilla shop or in the supermarket. Is the same masa that we use to make tamales.
Traditional champurrado recipe is sweetened with piloncillo. If you don't have piloncillo, you can use brown sugar or "lecherita" (sweetened condensed milk).
Chocolate. Your Mexican chocolate favorite brand I love Abuelita, La Polular and Ibarra brands.
Milk or Water. You can make champurrado with either but I definitely prefer whole milk or much better, condensed milk with water.
Mexican spices. Cinnamon and clove.
Champurrado Recipe
Ingredients
6 cups of water (separated quantities)
2 cans of Nestlé Carnation evaporated milk
3 cinnamon sticks
10 cloves
1 cup of corn flour dough (Maseca or tortilla dough)
2 chocolate discs or tablets
1/2 piloncillo (or sweetened condensed milk/sugar to taste)
How to make this Mexican winter drink
Add 4 cups of water, piloncillo, cinnamon and cloves to a saucepan. Bring to a boil to release the flavor. Lower the heat and boil until the piloncillo melts. You can discard the cinammon sticks and cloves if you want. I prefer leaving them. Separate.
(Skip this step if you're using ready to use corn dough). In a small bowl, add two cups of cold water and the corn dough or Maseca. Mix until it is well dissolved.
Add the mixture of dough and water little by little to the pot with the water and piloncillo to avoid lumps.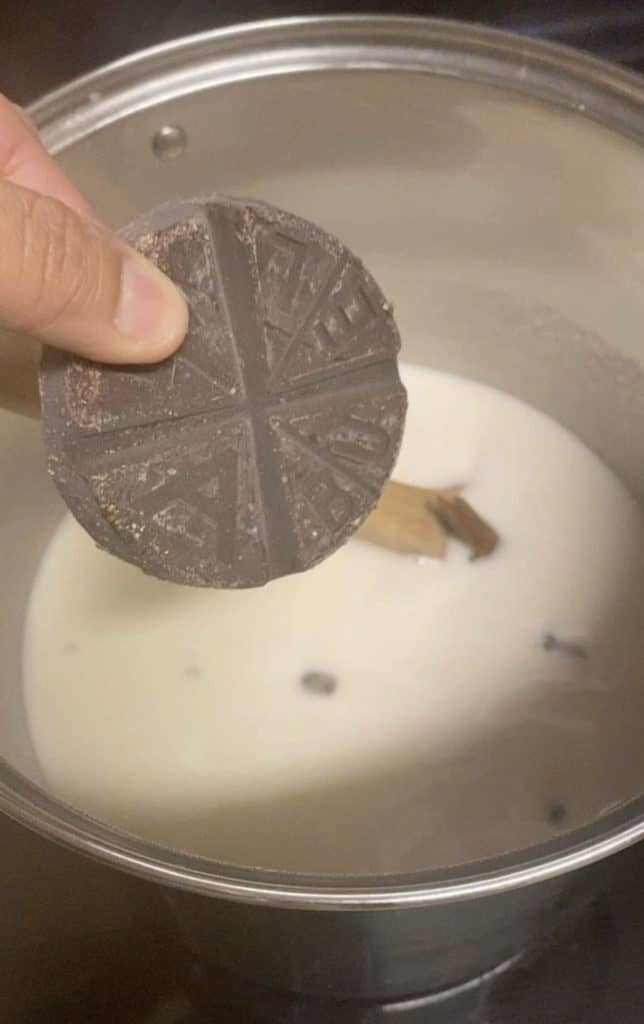 Incorporate the evaporated milk and the chocolate to the boiling water (over low heat).
Mix constantly so it doesn't burn until the chocolate melts.
Whisk until everything is combined and has the consistency of thick atole.
If you didn't use piloncillo, add sweetened condensed milk (or sugar) to sweeten to taste, mix and that's it.
Champurrado is served hot; it can be serve alone, as its very satisfying, you can also serve with with churros, tamales or pa dulce.
Check out more recipes: