If you love stuffed poblano peppers but you want to skip meat, get ready to enjoy these cheese stuffed poblano peppers in tomato sauce. This could be a great option for vegetarians.
This recipe is also in Spanish: Chiles rellenos de queso en salsa de tomate
I love the flavor of the poblano peppers and I like to try different recipes. This time I made cheese stuffed poblano peppers in tomato sauce but without or cover of egg and flour.
if you prefer the poblano peppers coated in breadcrumbs you can check my recipe of picadillo stuffed poblano peppers.
I think it's little difference in flavor but you can save yourself some calories or it may be a good option for those people who can't eat eggs for allergic or health reasons.
I hope you prepare my recipe!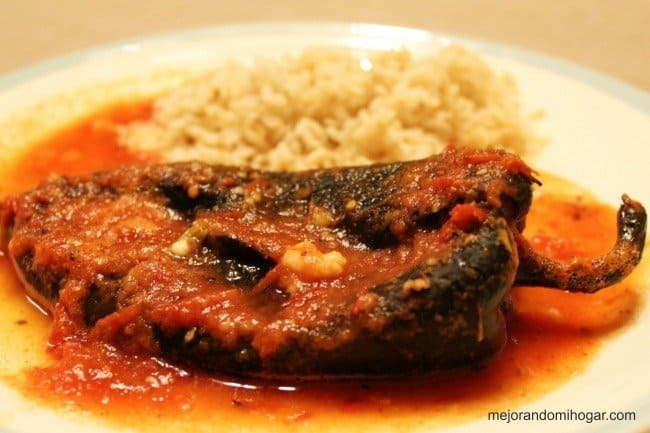 CHEESE STUFFED POBLANO PEPPERS IN TOMATO SAUCE
Ingredients
4 poblano peppers washed and dried
1 lb or 1/2 kg cheese of your choice (fresh, mozzarella, chihuahua)
4 roasted tomatoes
1/4 onion, chopped
1 garlic clove
2 cups of water
1 teaspoon of salt or knorr bouillon tomato flavor
1 teaspoon chile de árbol (optional)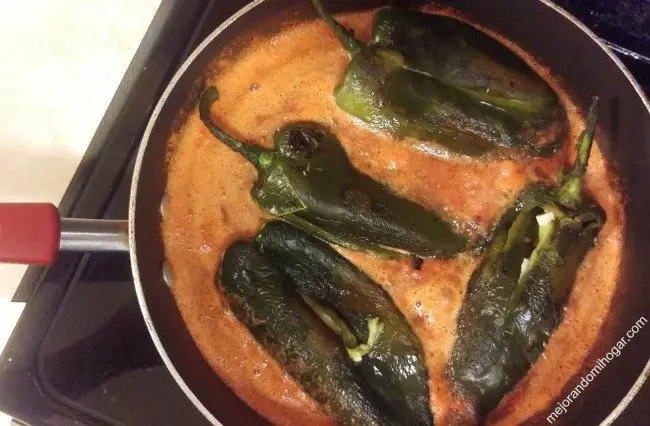 Roast the poblano peppers and tomatoes in the comal or bake them in the oven on all sides.
Remove from the heat and place inside a clean plastic bag, close it, and let them rest for about fifteen minutes.
In the meantime, slice the cheese and separate.
Blend the roasted tomato and garlic with the Knorr bouillon tomato flavor, (and chile de árbol, if you prefer) separate.
After this time, take out the poblano peppers from the bag and remove the skin, make a length cut and remove the seeds, stuff with the cheese and separate.
Heat oil in a frying pan, add the onion and fry until clear.
Add the tomato sauce, when it starts to boil add the poblano peppers carefully, add the sauce, cover, and lower the heat, let boil the cheese stuffed poblano peppers in tomato sauce for five minutes and you're done!
Serve with a side of rice, beans, and tortillas or salad.
Buen provecho!
More recipes: