As for many women, my family and those around me have always come first, until I realized that I needed to take care of myself before I could take care of others. I've also learned that over the years, our bodies need increasingly more care to be well.
This is a sponsored post by SheSpeaks / Philips. Spanish version.
Working from home and balancing responsibilities can be difficult, and it is easy to find yourself with little free time. What little time I have for myself, I try to use it in the smartest, most efficient way and pamper and treat myself after a hard day's work. I remember having to take showers at midnight because the 24 hours in a day was not enough for me and my needs.
I am not an expert on this subject, but I can share what I've learned by myself and what has helped me to prioritize my self-care.
Some benefits of taking care of yourself are:
• Increase your self-esteem.
• Decrease your stress levels.
• Improve your physical and mental health.
• Increase your productivity.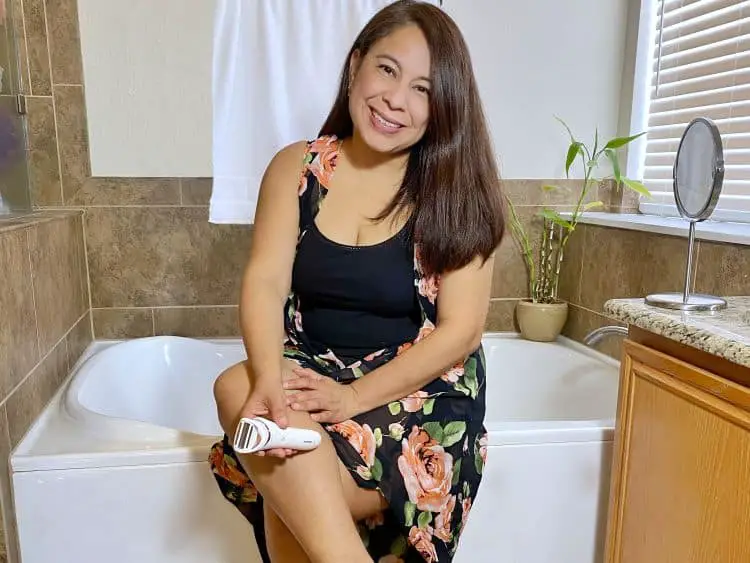 Personally, I have made some changes that have helped me, not only with what is listed above, but with problems that progress with aging as well.
For example, my skin has always been sensitive and dry. I have been noticing that this problem is increasing with aging, especially after being exposed to the sun or the air. And if I add shaving to that, it can get worse.
I was trying to shave as little as possible, but I don't like the Chewbacca look; so I was testing several products until I found the Philips SatinShave Advanced. It is a rechargeable cordless electric shaver that you can use on dry or wet skin.
The Philips SatinShave Advanced is designed to cover curved areas of your body to reach the toughest hairs. I liked that it includes a comb attachment to cut the hair that's a little longer, similar to level one of the hair clippers, perfect for the bikini area. And, it comes with a bag so you can easily take Philips SatinShave Advanced on your trips.
But I've also made other changes to improve my self-care.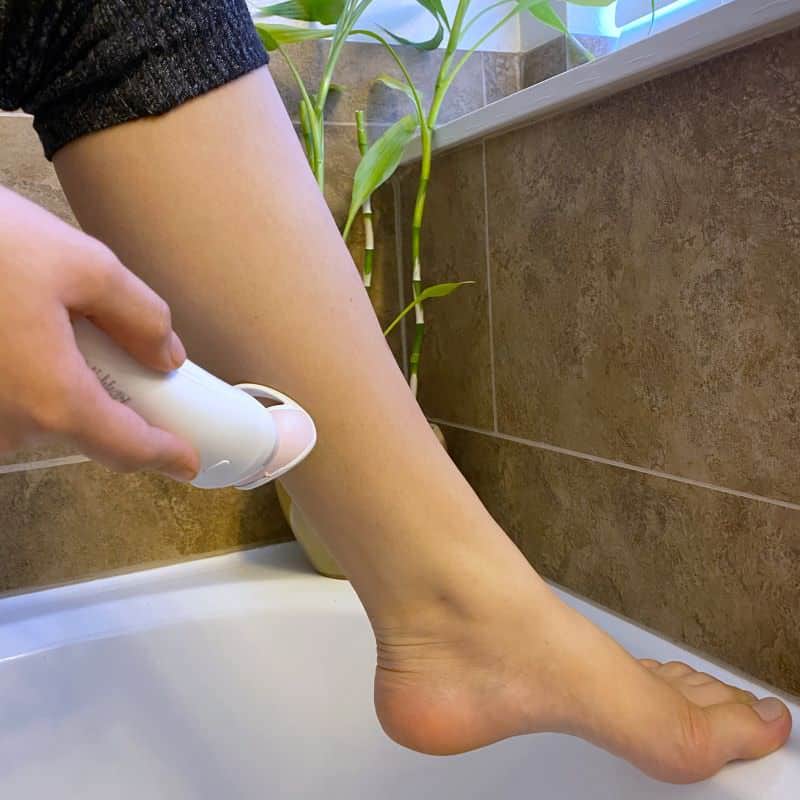 How to take care of yourself
● Drink water. Everybody says it. Drinking water has many benefits for the skin and for the body to function well. Drink at least 8 glasses of water a day.
● Lower the consumption of soft drinks. I love soda, but I've have been lowering my consumption considerably to reduce calories and even save money. Have you paid attention to the price of soft drinks in restaurants? Of course, sometimes I have cravings and I drink a glass of soda, or I have some when I'm at social gatherings. But I don't drink soda every day like I used to.
● Exercise. Move daily, whatever it takes, whether it's walking around your neighborhood, taking your dog for a walk or getting into a lesson you like. I just signed up for the gym and it's not easy, but I'm trying to stick to a routine.
● Surround yourself with people who appreciate you. Go out with your friends and people who want the best for you, avoid toxic relationships, and avoid getting worried about unimportant things.
● Take care of your appearance. If you color your hair or nails, keep the color flawless and avoid the cracked enamel on nails.
● Eat well. I know, this is so hard, because all those tasty foods aren't always good for us, but have you heard the savings Mexican saying "Poco a poquito se llena el cochinito"? (Little by little, the piggy bank gets full) Well, it also applies to our diet. Take care of what you eat, so at the end of the year you do not find yourself with unexpected, extra pounds.
● Limit alcoholic beverages. Drinking a beer or mimosa occasionally is essentially harmless, but avoid drinking alcohol daily.
● Maintain glowing skin. Exfoliate your skin often to keep it clean and glowing. Avoid irritated or cut skin after shaving with a shaver like the Philips SatinShave Advanced. Take advantage of the 10% discount to try the Philips SatinShave Advanced, you can get it at here with promo code SATINSHAVE.
● Relax. Take some time to enjoy any activity you prefer, whether it's getting a pedicure, running a hot bath, a massage, reading a book or spending a few minutes of – adult time – to do what you like.
● Take a power nap. I always thought that napping was for the old, but now I realize that a short nap in the middle of the afternoon (10-20 minutes) gives me the energy to "recharge the batteries" and to continue with everything that remains to be done.
Now that you know the changes I've made to take care of myself, let me tell you that when it comes to shaving, this is the first time I have used a rechargeable shaver. I was already fed up with the disposable razors that leave my skin irritated and sometimes even with cuts, especially in the armpit and bikini area.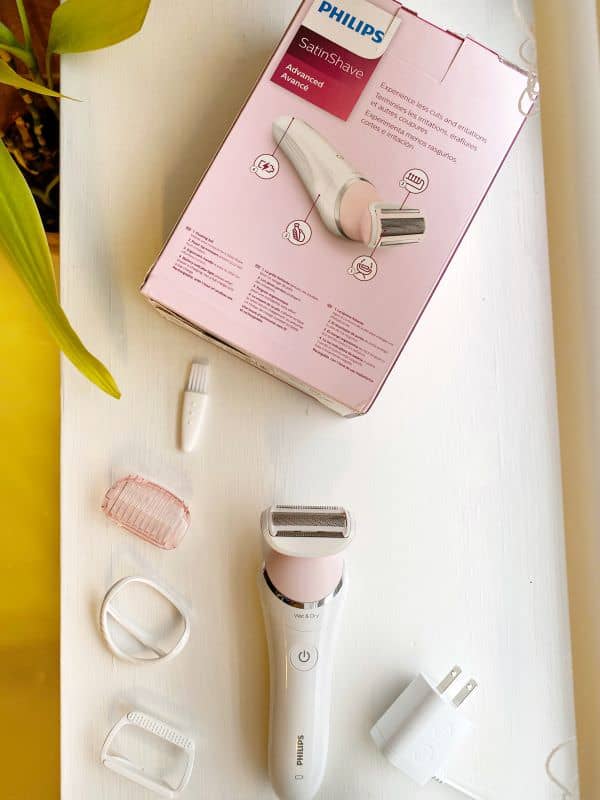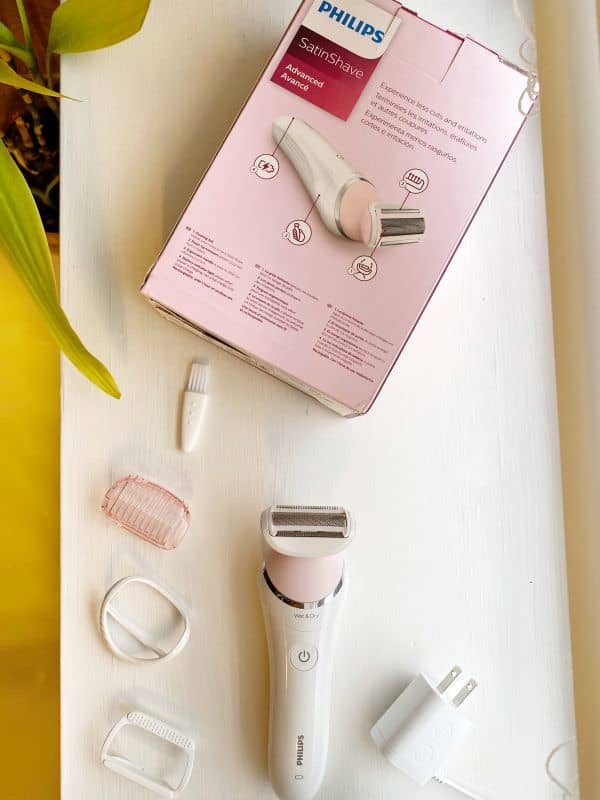 What I liked the most about the Philips SatinShave Advanced:
• It can be used dry or wet.
• Shaving is smooth with fewer cuts and irritation.
• Includes an accessory for the bikini area.
• The handle is anti-slip, for easier handling throughout the body.
• It has a floating foil head that maintains skin contact for an even shave.
• The rechargeable battery lasts up to an hour (after charging for eight hours) and has a light indicator.
• It has pearl tip trimmers next to the foil to protect your skin from getting irritated.
Take advantage of the 10% discount to try the Philips SatinShave Advanced, you can get it at here with promo code SATINSHAVE.
To me, the Philips SatinShave Advanced has everything you can look for in a shaver.
That's why I'm happy to invite you to enter our Philips SatinShave Advanced giveaway.
Enter for a chance to win a Philips SatinShave Advanced!
GIVEAWAY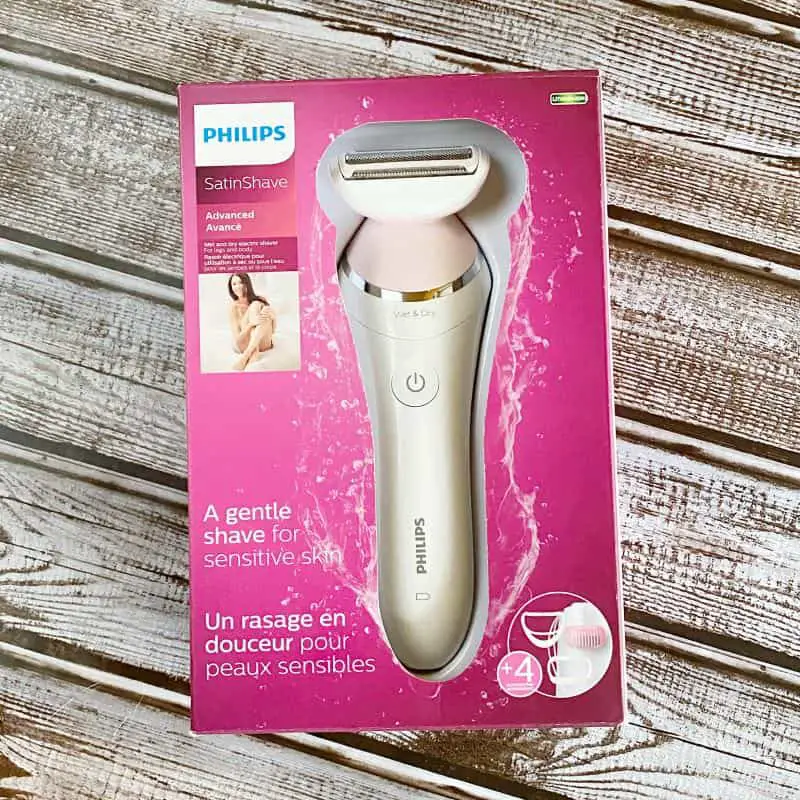 Giveaway rules:
Share in a comment below: What do you look for in a shaver or razor?
Share this post in public mode on your Facebook, Pinterest or Twitter with #PhilipsSatinShaver
Optional (Additional entries)
• Like and Tag a friend on this Instagram post
• RT this Tweet https://twitter.com/mejoramihogar/status/1235301384410497025
Valid only in the US. Giveaway ends on March 12, 2020. I will send an email to the winner and I will also announce the winner at the end of this post. If the winner does not respond in 48 hours we will choose another winner.
WINNER: Norma Castro