Learn how to make paper chains for easy and budget-friendly decorations. These tricolor paper chains are common in Mexican Independence Day festivities.
Check out this post in Spanish Cadenas de papel para las fiestas patrias
You can use them to decorate walls or floats at parades, and what will give them that special touch is the colors you choose.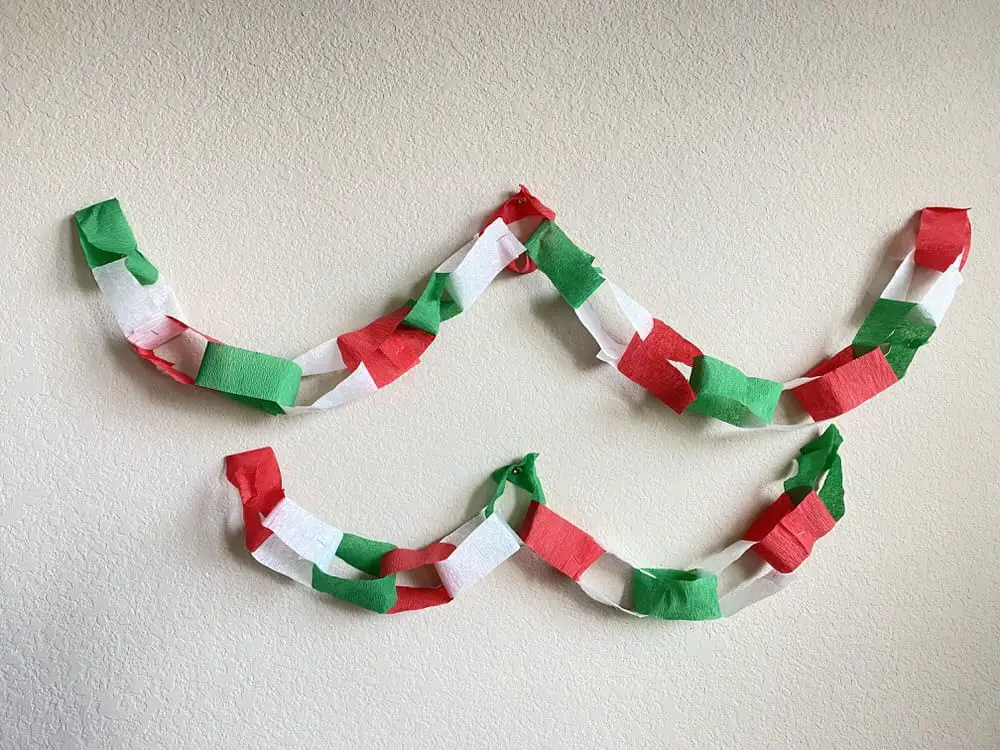 This papercraft is so easy, we can do it with kids to decorate a party. The materials are very affordable. My five-year-old daughter helped me make them, and we had a great time.
Let's see how to make a three-color paper chain for patriotic celebrations. Have fun!
What paper do you use for paper chains?
Tissue Paper. This kind of paper can be so easy to tear, so you must be careful when using it.
Crepe Paper. My favorite paper to make paper chains. I think most Mexican people use this kind. Also, you can save time using crepe paper rolls, size is perfect for this craft.
Construction paper. Paper garlands would be more sturdy when used with construction paper. Here in the US, I've seen children and teachers at school making colorful chains with this paper. Like this Mickey Mouse chain paper that a friend made for a party. We also made some props for a photobooth.
HOW TO MAKE PAPER CHAINS
Materials
Tissue paper or crepe paper (red, white, and green)
Stapler (or glue stick)
Scissors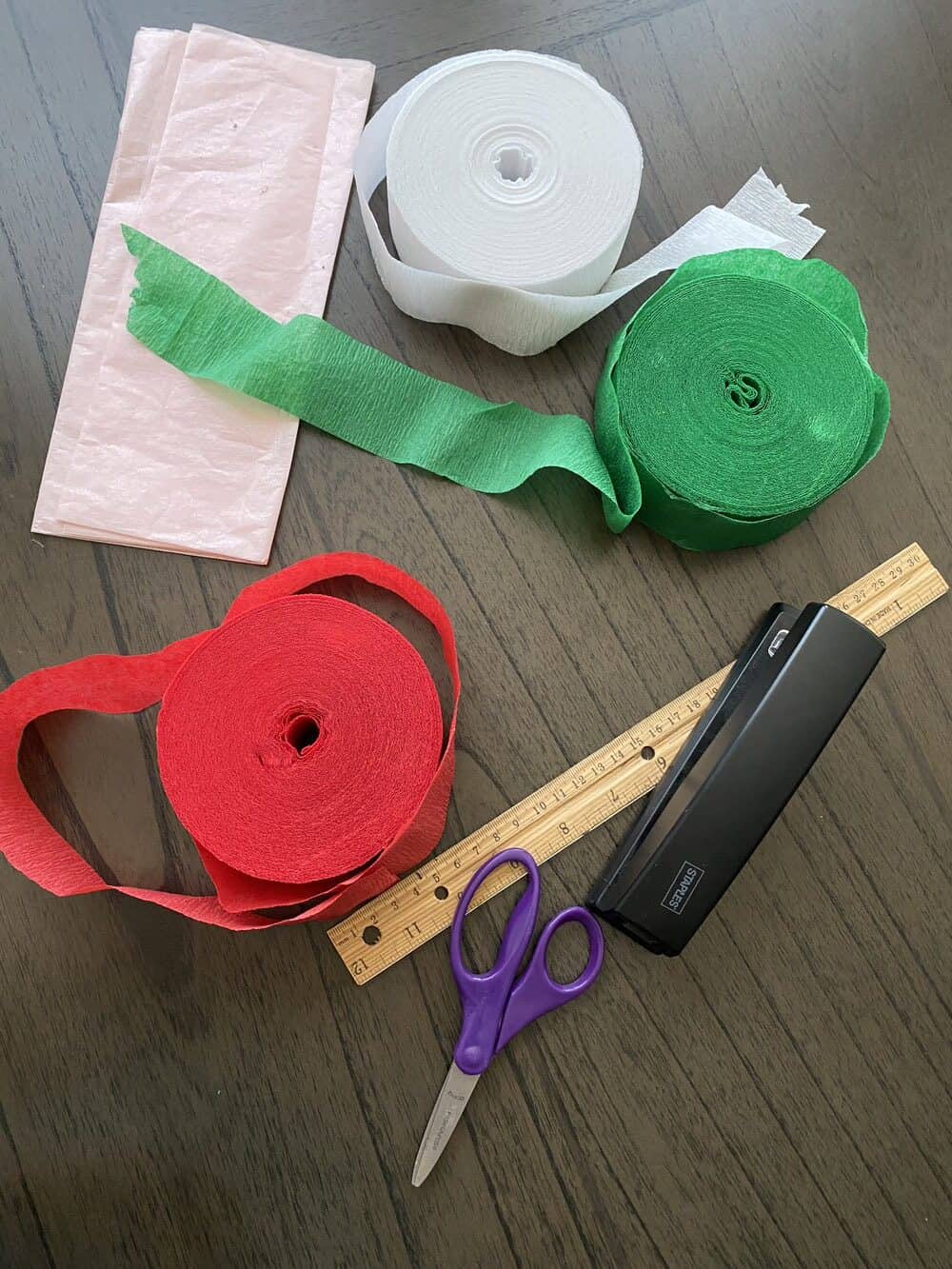 First, cut several strips of tissue paper of the same length, approximately 20 cm or the desired size. (You can also use rolls of crepe paper; they look prettier, and you won't have to cut them.)
Take one strip of tissue paper or crepe paper, form a circle, and staple it.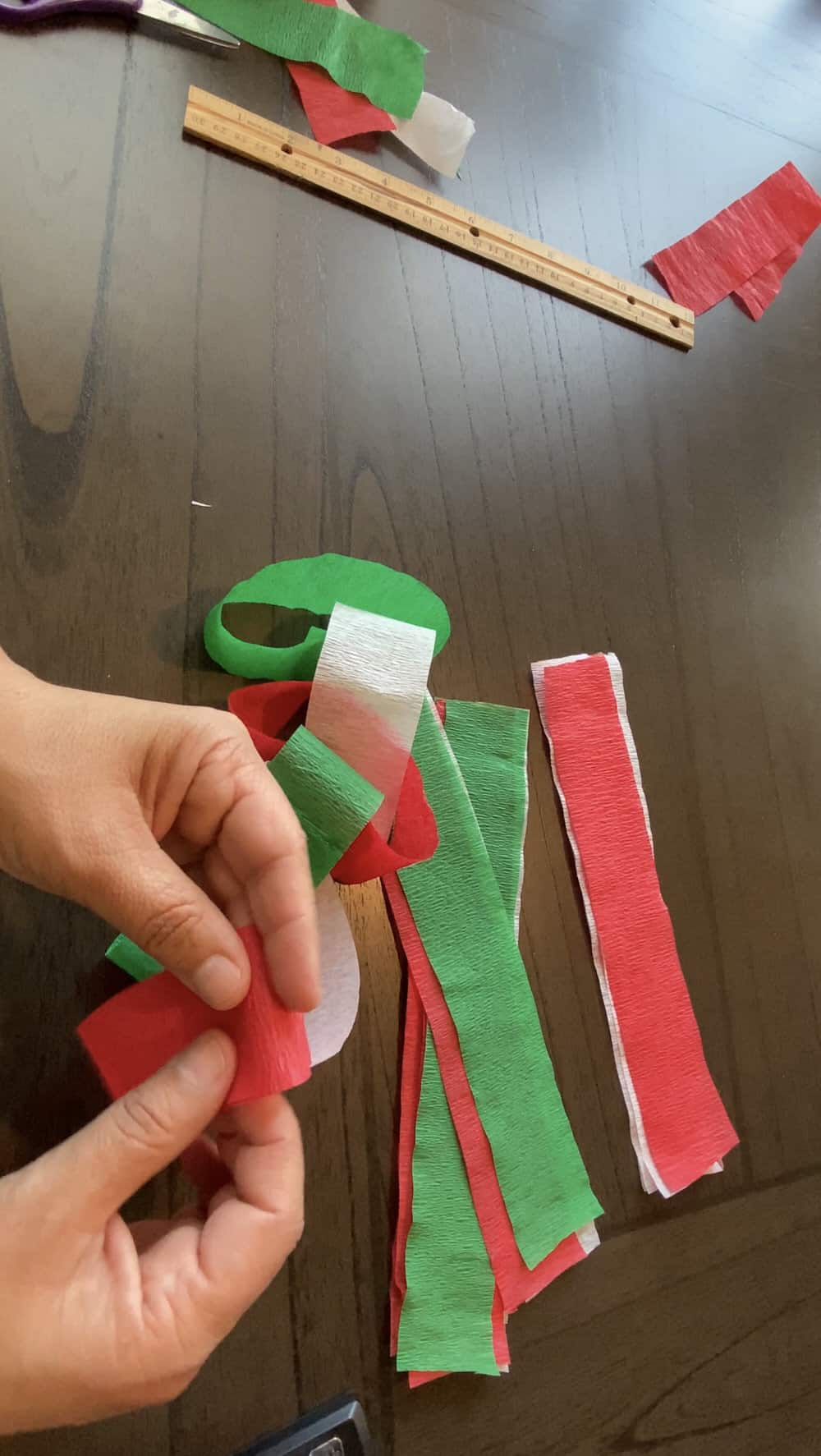 Then take another paper strip and insert it into the first circle you made, and staple it.
Repeat this last step until you achieve the desired garland paper chain length.
Mix colors for a Mexican party, use green, white, and red.
Hang the paper chains garland on the wall, on the edge of tables, twist them, hang them from the ceiling—basically, whatever you can think of!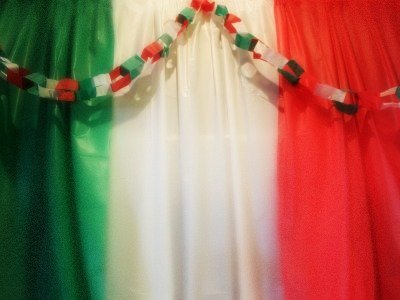 Paper chains for the Mexican Independence Day photobooth
These paper garlands are very decorative I used them to decorate a DIY Mexican party photobooth.
You can place several tablecloths against the wall. In this case, I used the Mexican flag colors red, white, and green.
Then I hung the garland paper chain in front of the tablecloths. And that´s it. It made a great and simple DIY Mexican fiesta photo booth.
The guests were dressed in traditional Mexican costumes. I made a DIY mariachi costume for my son, along with some DIY papel picado!
Remember that food and drinks are also important in a fiesta. Try Mexican recipes like Picadillo tostadas, beef fajitas, and beef tongue in salsa to celebrate Independence Day.
You can find all these recipes and more in the recipes section of the blog. If you find any of them useful, please leave a comment and save them on Pinterest!