When we travel our skin suffers from changes in food, weather, long flights, check how to take care of your skin when you travel.
This is an article compensated as part of AVEENO®'s blogger-ambassador program.
I love to travel at any time of the year, I enjoy weekend trips and also the longest, by plane or road, like this summer's that we spent almost two months in Mexico.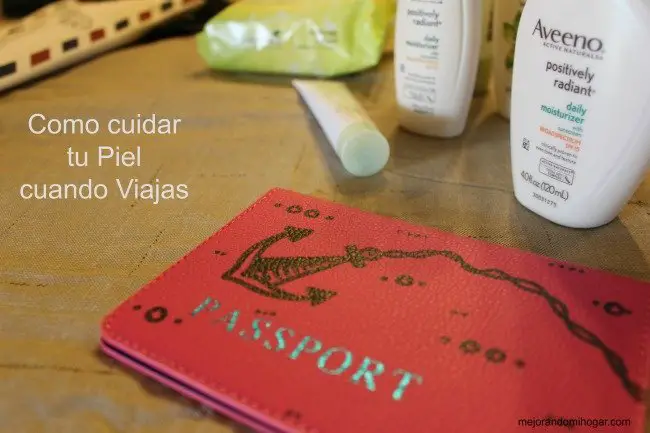 What can not be missed in the trips is my makeup bag and items such as: moisturizing cream with sunscreen for the day, makeup remover wipes, facial cleanser, all these from the AVEENO Collection® Positively Radiant™, plus toothpaste and toothbrush, night moisturizer, deodorant, perfume, body cream, repellent, blocker and disinfectant.
In my case, a day before i travel I do a deep cleanse on my face to remove dead cells and the day of the trip, I moisturize my face and lips and macal slightly, because I like to arrive, wash my face and make up at that moment to arrive with a fre look sca to my destination, especially if it's to some conference or event.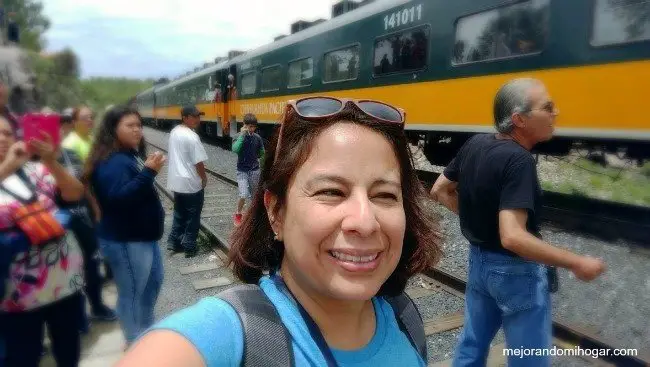 I always carry my cosmetics and basic beauty products, remember that if you travel by plane the bottles must be 3 oz or less and be stored in a plastic bag with closure. The most important thing is to keep my skin hydrated and clean, sometimes it can be difficult with the run-run but you have to make an effort, it's really worth it, to avoid wrinkles, pimples and blackheads.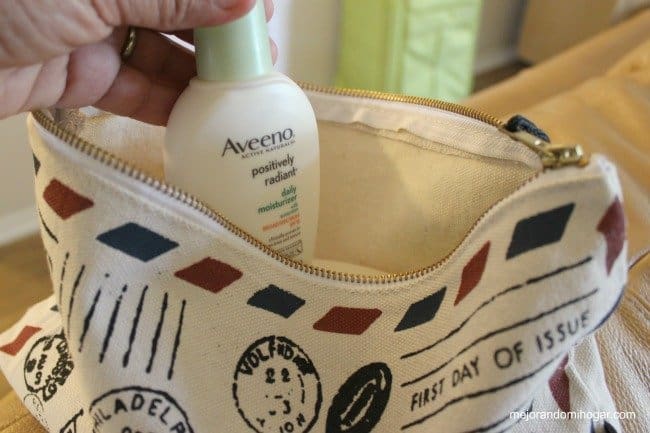 I invite you to read the advice of the Hispanic dermatologist, Dr. Francisco Flores who recommends that we pack products that fit in the travel bag and carry things that keep the skin fresh and hydrated, such as the AVEENO collection® Positively Radiant™ formulated with ACTIVE NATURALS™ Total Soy Complex that helps transform the 5 factors of a radiate skin: tone, texture, lack of shine and dark spots.
Check out some coupons and offers to buy these and other AVEENO products®
How to take care of your skin when you travel
Remove make up. Use AVEENO wipes® Positively Radiant™ Makeup Removing Wipes that remove makeup, grease and dirt that make skin look dull. Wipes combine soy extract and gentle cleansers that leave your skin glowing, soft and healthy. They also don't allow pores to be covered, prevent acne and stop the spread of bacteria on the pillow.
Clean and moisturize your skin every night. At night wash your skin with AVEENO® Positively Radiant cleanser™ Brightening Cleanser and then apply a moisturizer like AVEENO® Positively Radiant™ Daily Moisturizer Broad Spectrum SPF 30 will help moisturize your skin and protect you from harmful UV rays.
Reduces the appearance of dark spots. Pair your skin tone with AVEENO treatment® Positively Radiant™ Targeted Tone Corrector, help reduce discoloration and improve skin tone in two weeks.
Moisturize your face. Use a sprinkler with mineral water and add a small amount of moisturizer, it will help with the luminosity of your skin, it will reduce the lines of expression and the visible signs of aging.
5. Sleep and relax your eyes. If you take a nap on the plane, apply some night cream around your eyes and then put on a sleeping mask, so you'll look fresh and relaxed when you arrive at your destination, or if you're going to read or watch a movie use a few eye drops , help lubricate and soften.
6. Drink plenty of water. It helps you control calories, energize muscles, maintain kidney balance and makes your skin look beautiful and healthy!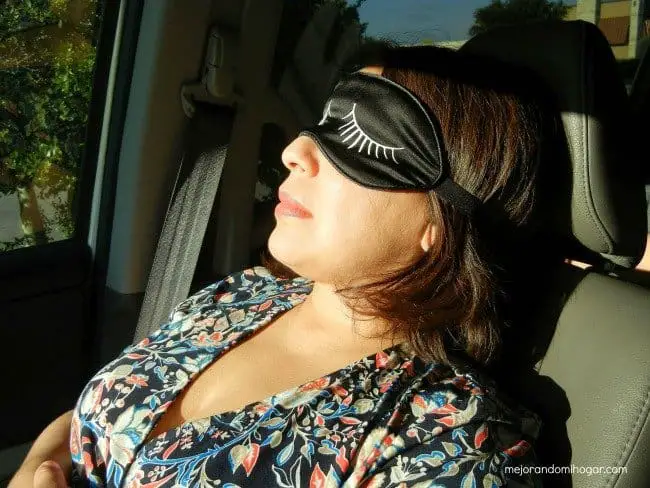 Check out: