Make a tasty and fresh Mexican shrimp cocktail, it is excellent as a snack or as an entree for your seafood dishes.
I love shrimp and my family too, they are easy to cook and very versatile, they can be eaten in hot or cold dishes; with rice, with pasta, etc.
This mexican cocktail made with shrimp is one of my kids' seafood favorites dishes, maybe for the bittersweet taste, although my daughter likes spicy.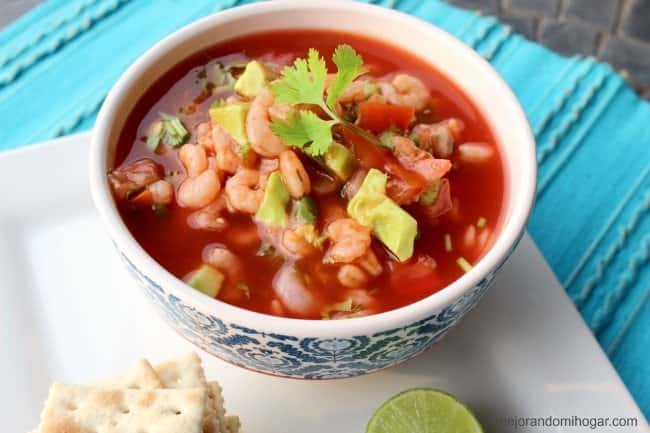 The shrimp cocktail is one of the easiest dishes that you can take to your meetings or parties.
Best shrimp for Mexican shrimp cocktail
To make this mexican cocktail, we use small shrimp. It will be full of flavor if you use fresh shrimp but you can also use frozen shrimp if you wish.
Anyway, raw shrimp must be cooked and cooled before you make this mexican shrimp cocktail.
Check out more shrimp recipes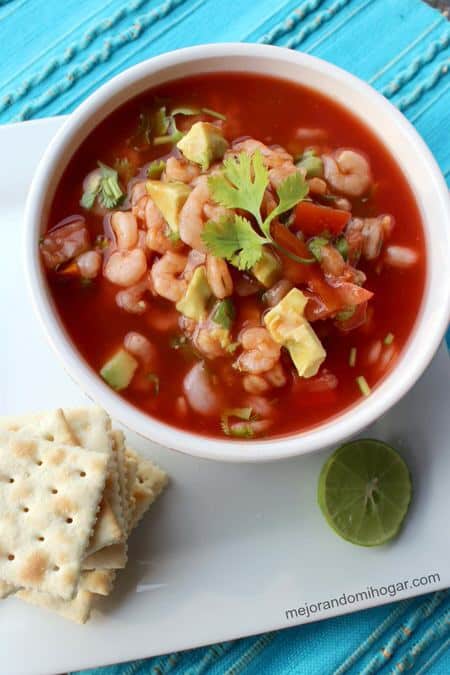 MeXICAN Shrimp Cocktail
Ingredients
1 kg (2 lbs) small shrimp
1 cup ketchup
2 avocados
1/2 onion
2 lemons, (juice)
1 teaspoon white vinegar
1/2 teaspoon Maggi sauce
1/3 cup water
3 cilantro branches
Salt and pepper to taste
Crackers
Tabasco sauce or chopped serrano chili, if you like spicy.
Rinse the shrimp and place them in a deep bowl or bowl.
Add 1/3 cup water, vinegar, and lemon juice. Let marinate the shrimp while we prepare the other ingredients.
Chop the cilantro and onion. We incorporate these vegetables into the shrimp.
Add ketchup sauce, Maggi sauce, and tabasco sauce, and mix.
Chop the avocado and add at the end, mix carefully to prevent it from uncovering.
The shrimp cocktail is served cold, with biscuits, crackers or toast, depending on your taste.
You can also serve it as a snack with saltine crackers and a cold beer.
We can serve this shrimp cocktail during Lent or as an appetizer before a seafood dish.
Buen provecho!