This is a compensated campaign in collaboration with Nabisco and #WeAllGrow Latina Network
"I invite you to snack" is a popular phrase in Mexico, snacking is a traditional simple meal between lunch and dinner; it can be family or reunion type with friends.
In my house we have continued with the family tradition of snacking, when my children arrive hungry from school, they always ask for something to snack on, whether sweet or savory and I try to have something easy to enjoy with them while we wait for the arrival of dinner.
I also get to snack with my friends from time to time, each one carries some snack or snack, next time I will bring these snacks of carnitas en achiote, which were a success in my house, I prepared them inspired by the recipe of the Nabisco Pulled Pork-Sofrito RITZwhich .
I found the recipe on Nabisco's website while searching for easy-to-prepare snack ideas and found that they have recipes inspired by Latin dishes, made with Nabisco's favorite cookies: Oreo, Chips Ahoy!, RITZ Crackers and Honey Maid.
When I saw the recipe, I remembered that I had some pork carnitas that I had left over from the day before and also had Ritz cookies because we often eat them with everything; I set out to prepare it but with a Mexican twist; because this recipe of nabisco carries sofrito that is typical of some Latin American countries, but we do not usually use it in Mexico.
I hope you enjoy them, take them to some meeting that they come to celebrate Hispanic Month or Hispanic Heritage Month, they are very rich.
Carnitas Sandwiches in Red Sauce
Ingredients
1/2 lb or 1/4 kg of Carnitas or cooked and shredded pork
Ritz Crackers Cookies
Chopped tomato
Lettuce in chunks
Cream
1/2 cup liquid achiote
1/4 cup vinegar
Heat the carnitas in a frying pan (you can add oil if needed) over medium heat.
Add the liquid achiote and vinegar, lower the flame, cover and turn off when boiling.
Put the Ritz cookies on a plate, set a piece of lettuce, the carnitas in sauce, a piece of tomato and a little cream. You can serve like this or cover up with another Ritz cookie as a sandwich.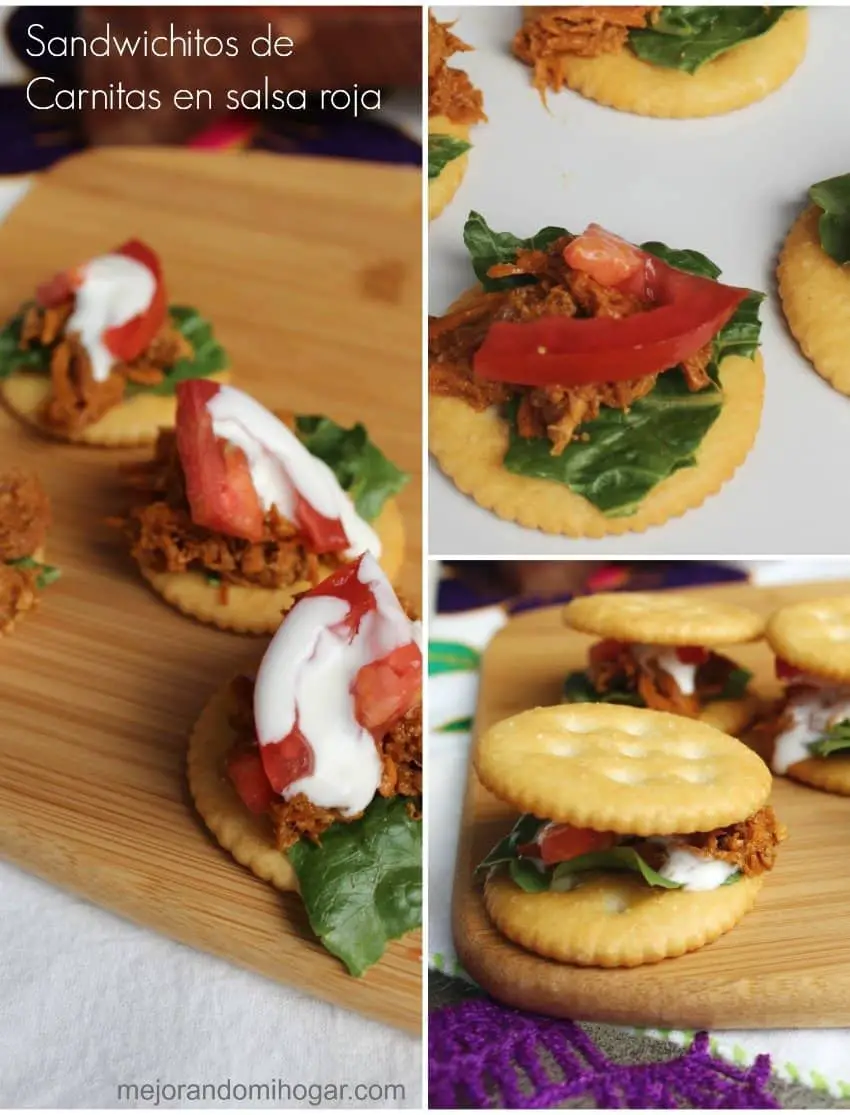 Look for more ideas in networks with #LetsMerienda !
This is a sponsored conversation written by me on behalf of Nabisco. The opinions and text are all mine.